"My daughter loves being able to figure out her new toys for herself and The Harvest Play Kit is perfect for her to be able to do that!"
— Jill M. (Mother of 2)  ⭐️⭐️⭐️⭐️⭐️
KICKSTART IMAGINATION AND CURIOSITY TODAY! 
Your toddler may be finding their voice and their special place in the world.
Our Harvest Wooden Memory Play Kit offers new challenges in balance, object permanence, and spatial awareness, as well as an early introduction to physics.
🥕 Learn fun lessons in cause and effect.
🥕 Build fine motor skills with BIG ACTUAL SIZE VEGGIES!
🥕 Get more comfortable with routines and time.
🥕 Explore rotation, spatial relationships, and parts of a whole.
🥕 Age Recommendation: 6+ Months Old.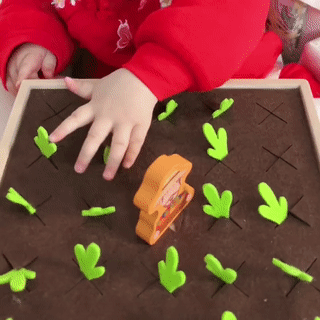 Say No To Harmful Screen Time – Say Yes To Harvesting Carrots!
Our Harvesting Memory Play Kit is a new and unique learning toy for your little one.
Designed to keep your toddlers attention for hours on end – while developing important life skills.
🥕 Improves memory and intelligence
🥕 Boosts hand-eye combination
🥕 Enhances the thinking IQ level 
🥕 Expands color and shape recognition
So How Do You Play This Fun Game?
1. Be the pretend farmer and help your farmer friend to plow colorful radishes/carrots (try keeping in mind where they're planted).
2. Let them grow while you count them! (Improve your kid's math skills woohoo!)
3. Pluck and harvest the carrots based on the memory cards from the super realistic farm landscape
We also have two more super fun games – Two to Tango and Help The Chef!
Start the development journey today! 👶 👧 🧒
Engage your baby in sensory exploration through our Harvest Wooden Memory Play Kit 🧠

"One of the best investments I've made as a mom."— Cat K. (Mother of 3) ⭐️⭐️⭐️⭐️⭐️
Promote Creativity
Spark the imagination of kids with techniques for exploring and discovering interesting concepts opening up a new world of possibilities!
Build Fine Motor Skills
Improve kids' cognition and fine motor skills while playing and having fun.
Object Awareness
Gain an understanding of spatial awareness and interaction through active object exploration.
Active exploration develops coordination, self-confidence, and cognitive thinking skills.
Practice Real-Life Skills
Our toys ignite curiosity, create understanding, and promote the development of real-world skills!
A GIFT THAT EVERY CHILD WILL CHERISH!